Organic Local SEO – 5 Tips For Getting You to The Top

.
Local and national SEO are essential for businesses looking to capture searches that have local intent. These are proven strategies from the expert's marketing toolbox to make your brand known, facilitate product discovery, and promote services to local customers. When done right, it's a great way to be present during some of the more critical steps of the buyer's journey. This article explores 5 tips for boosting your Local SEO and showing up at the top of people's search results. Read on to learn more!
1 |

Get listed on relevant search engines, starting with Google

.
To gather information for local search, search engines rely on information like links, reviews, and social media pages to provide the most relevant local results to the user.
While there is no shortage of directories where you can list your locations, Google Business Profile – or GBP – is the most popular of all (formerly Google My Business or GMB). Given that 46% of all Google searches are looking for local information, this directory should be priority number one for businesses large and small. Getting discovered on Google takes just four easy steps:
✓  Claim and verify your Google Business Profile

✓  Create Google Posts to share promos, updates, and news directly via your profile

✓  Encourage people to leave reviews online

✓  Respond to reviews so customers know you're engaged, committed, and active (make sure reference the city/neighborhood in your reply to make it specific and searchable)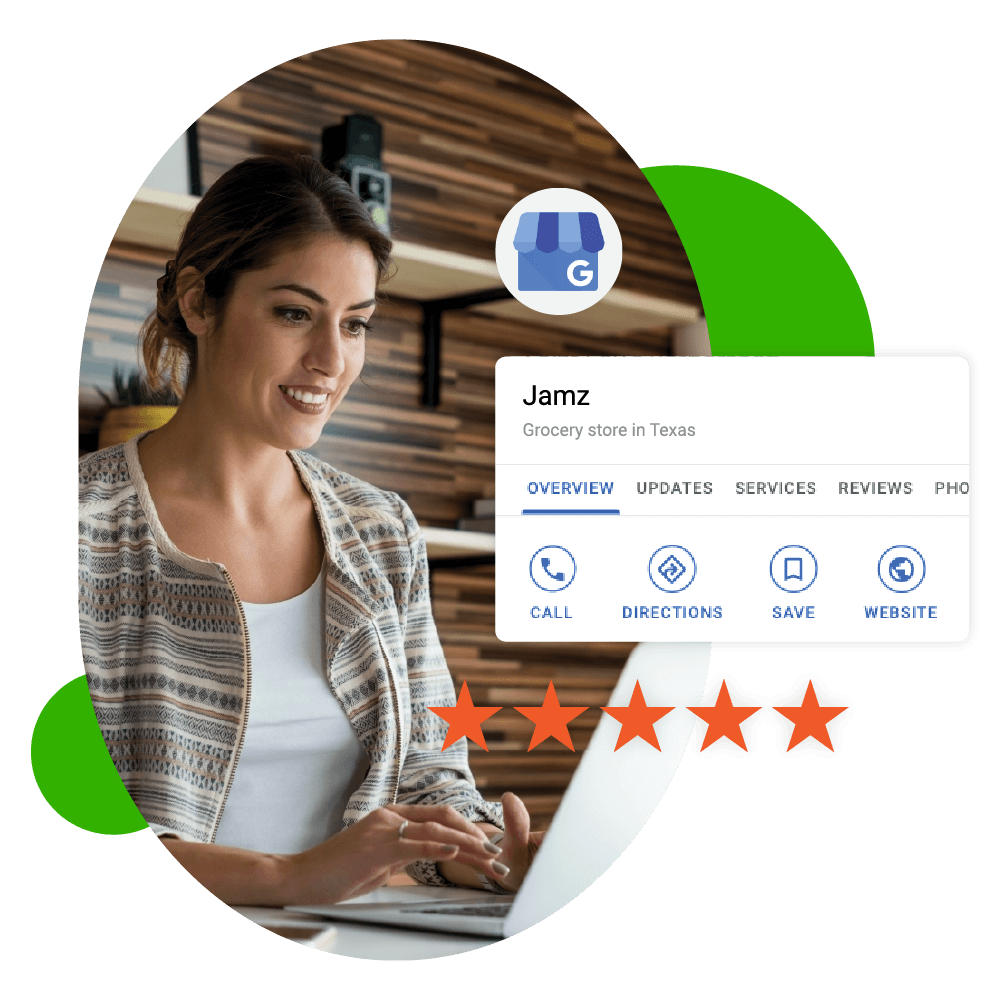 Maintaining active and accurate listings on GBP not only boosts your chances to snag a coveted spot at the top of users' search results, but also makes it easier for customers to find you.
Keep in mind that Google is not the only search engine out there: these days, people use all sorts of platforms to search for local businesses, from social media, like Facebook and Instagram to other search engines like Yahoo or Bing, so consider having a presence there as well.
2 |

Be consistent across directories

.
Making sure your online info is accurate doesn't just benefit consumers. Search engines also need precise info in order to make sure they present the most up-to-date information. The best way to do this is by ensuring your NAP information (name, address, and phone number) is consistent across listings, your website, and your social profiles. On your site, this info should be included as crawlable HTML so it's easier for search engines to find and corroborate.
3 | Integrate your social posts with your search profile

.
Engaging on social media is a must for any business, and it's important that your social posts are synced to your local listings. Now more than ever, Google sees social posts as proof of your business's legitimacy, so sharing your GBP listing on your social networks (and vice versa) is a great way to connect the two. Consider using Google Posts as part of your social strategy, as it gives you a communication channel that has local intent while offering your audience a more dynamic way to interface with your businesses.
4 | Feed aggregators and optimize for them

.
Platforms like Apple Maps, Yelp, Trip Advisor, Google, and Bing pull a good amount of their data from aggregators, so it's important that these companies have your most up-to-date information. Keep in mind that small discrepancies like abbreviations, typos, and wrong phone numbers can cause search engines to mistrust the data, which can have your locations removed from search results altogether. Here are the three main aggregators you should keep in mind:
/

ˈaɡrəˌɡādər

/
An aggregator is a platform that pushes your business info to a large quantity of directories and apps at the same time. They're a great tool for businesses that want to get their data out there quickly and efficiently – though not every directory will accept every push. 
5 | Create and optimize contact pages for each location

.
Store locator pages ensure each location gets its own page for search engines to verify and promote. On those pages, including your NAP info is a must, but there are some other tricks you can use to boost your SEO:
✓  Add an email address where customers can contact you

✓  Make phone numbers clickable on mobile (Google has a post that walks you through how to make a phone number clickable on your website)

✓  Add a map showing your location (86% of people look up the location of a business on Google Maps)
✓  Add a Schema markup to your website (Schema is a common language that helps search engines understand what your site is about)
Local SEO is an ongoing play, not a one-off task that you can cross off your checklist. It requires monitoring, auditing, and constant optimization. At RenderSEO, we have the expertise to spearhead these initiatives and build state-of-the-art store locators, helping you boost your Local SEO and aim for the top of the search results page.
Ready to see us in action? Reach out today.