Google Business Profile: Best practices for multi-location businesses

.
Imagine you are on vacation in a foreign city and you get a craving for a delicious, authentic espresso. With no coffee shop in sight, what do you do? Asking a local is a good start, but these things are so subjective – plus, you might get lost without a set of directions in-hand. The most foolproof solution would be to look online to make sure you are getting exactly what you want. 
As a business with multiple locations, if you want to get discovered by customers just like these, you'll need a powerful listings management solution for your Google Business Profile (previously Google My Business ) listings. Maintaining accurate listings data for all your Google locations has never been so crucial for generating foot traffic and interest.
of Google searches have local intent, representing billions of high-value searches
It's no secret that Google boasts a whopping 89% of core search engine market share and 94% mobile search share. ‌46% of Google searches have local intent, representing billions of high-value searches for businesses and services in shoppers' neighborhoods. So while not the only directory out there, Google is certainly  the right place to start!
Best practices for multi-location businesses on Google

.
Keep an eye on new Google Business Profile features

.
Google keeps marketers on their toes by continuously releasing updates for their algorithm and their product. By adopting these new features as soon as they come out, you will maintain a competitive advantage over competitors who aren't as plugged in. So keep your eyes open and be prepared to act fast in the face of ongoing change.
Pack your listings with information

.
When building out your listings, fill in as much information as possible for each location. You can create listings either on a per-location basis or use a listings management software to do the heavy lifting for you (Guidelines are pretty specific, so make sure you respect the rules). Having content-rich listings ensures that people searching for your business will have the information they need, while giving you a boost in terms of local SEO.
Use Google Posts for key updates

.
To get to the top of the page, your business needs to be findable. Google Posts are twofold: like many other Google Business Profile features, they are designed to increase SEO traffic to your listings, while also allowing you to communicate key updates in bite-size snippets. Businesses can create posts about promos, changes in opening hours, COVID-19 measures, in-store events, and more. Think of it like a social media post that gets published to your local listing.
Upload high-res pictures for each location

.
Nobody likes cookie-cutter listings – not real people, and certainly not Google's algorithm. Each one of your locations is unique, so should the images you upload to your listings. Make sure you highlight what makes each location unique and keep refreshing your content regularly – bear in mind that listings should be interesting to new and existing customers alike! Capturing local images can be a challenge, reach out to us to learn how we can help with our AI driven professional photography made for Google.
Actively manage your reviews

.
Even if you've built a trustworthy brand, the most convincing thing for customers to read is another shopper's positive review. Managing and responding to feedback is a key element of keeping your online reputation squeaky clean: make sure each reviewer gets a personalized reply, take any disputes to a private channel (like email), and keep an eye out for fake reviews. 
Be clear about your COVID-19 measures

.
COVID-19 has introduced a new set of responsibilities for retailers and shoppers. To make sure customers know what to expect, check off the Google Business Profile attributes that best describe the sanitary measures and additional services in place at each location, such as:
✓  Curbside pickup
✓  No-contact delivery
✓  Online services
✓  Masks required
✓  Safety dividers at checkout
✓  Staff required to disinfect surfaces between visits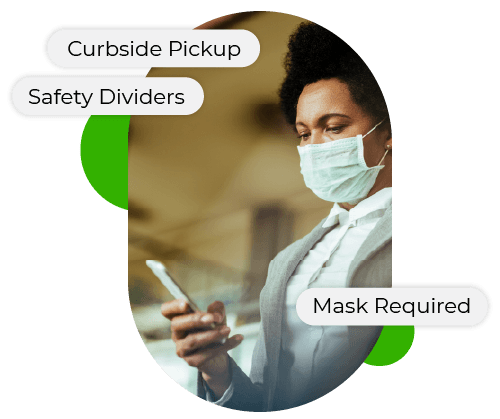 Choose the most pertinent category

.
Google updates their business categories frequently, so it's important to keep tabs on what's new to ensure your businesses are labeled with the right one. Since search is heavily influenced by these, you want to make sure you're in the right bucket.
Leverage your Google Business Profile insights data

.
Track your search performance and solve listings-related issues (duplicates, unclaimed listings, etc). Google Business Profile data is a treasure trove of insights that can help you optimize your local presence and understand which locations are underperforming – and why. Is it customer service, or perhaps lack of inventory? Keeping an ear to the ground is crucial to your location's success.
Ready to see how we can help you

?
Google Business Profile is an awesome platform that can put multi-location businesses on the map, but we know keeping up with multiple listings can get overwhelming. If that's the case for you, stress no more!
RenderSEO's listings management platform unites all of your directories under one roof, so you can save time by batch-updating listings and responding to reviews from a single hub. All with the support of an experienced and well versed team behind you. Ready to see how we can help? Get in touch here or explore some of our case studies: