7 Ways to Optimize Your Online Presence for the Holiday Rush

.
With some eager retailers already busting out their holiday playlists, there's no denying it: the busiest time of the year is upon us. Gift lists are looming, shoppers are primed to buy, and the clock is officially ticking. 
American shoppers get their holiday shopping done early to avoid out-of-stock items
Shoppers start crossing names off their list in June!
Now, your main responsibility is to make sure you show up in potential customers' web searches. Online traffic frequently translates to in-person visits, as evidenced by the 73% of 2020 holiday sales in the U.S. that were completed in-store. 
Squeezing every last conversion out of the high-traffic holiday season is much easier when your local listings are optimized for SEO and discoverability. 
So, here's how retailers can prepare for the influx, improve their search engine rankings, and successfully pull shoppers straight to their locations.
According to Google, busy shoppers will be relying on omni-channel experiences to confirm items are in stock or available before visiting a brick-and-mortar location. That means your local listings will need to be up-to-date and accurate everywhere if you want to seal the sale; every touchpoint matters.
1. Set Up Your Business Profile On Key Directories

.
If you have yet to claim your business listing on major directories like Google, Yelp, and Apple Maps (or any other specialized directories that are relevant to your industry) you'll need to start here. 
When setting up your profile, make sure to include as many details as possible about your business: address, phone number, category, hours, services offered, and so on. The more information you provide, the more you'll be viewed as "trustworthy" in the eyes of search engines like Google. Plus, when it comes to informing customers who have landed on your business profile, more is more!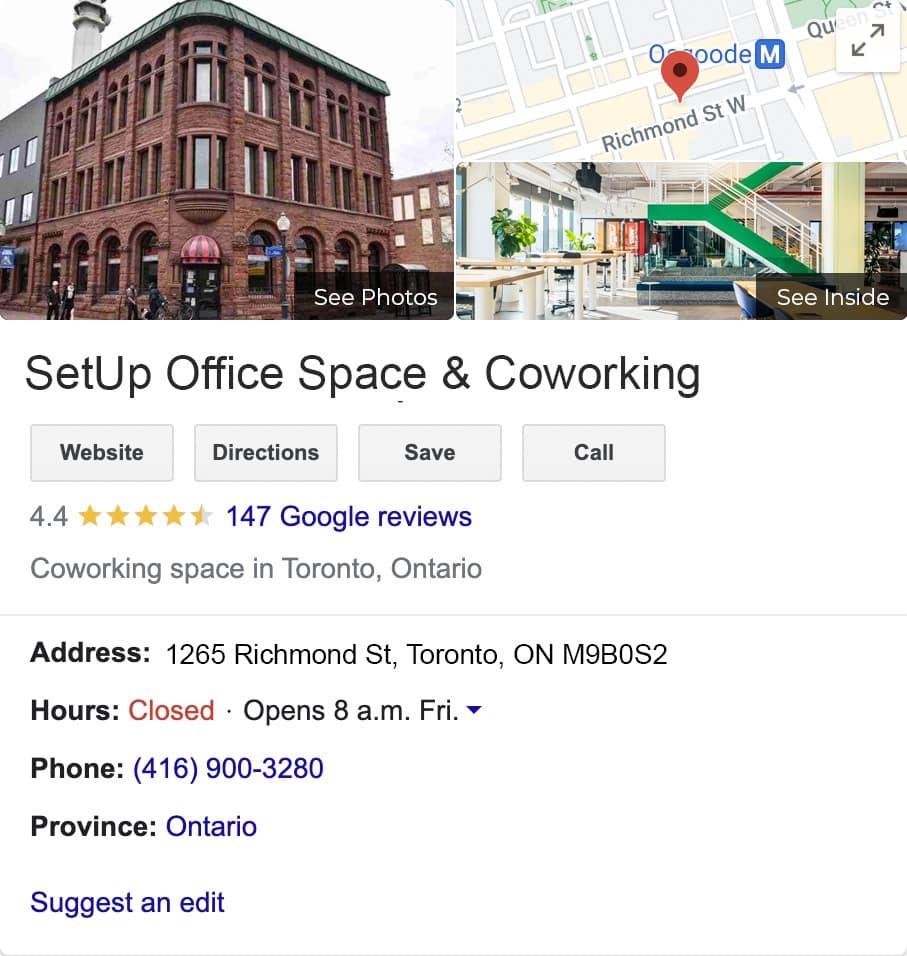 One critical directory is Google – more specifically, you should absolutely create a Google Business Profile (Previously known as Google My Business) listing.
If you've ever used Google to search for a business (and who hasn't?), you already know that the engine provides a business overview in the top-right corner. On top of basic location info, it also displays reviews, photos, and actionable prompts like "directions" or "call." Once you complete your Google Business Profile listing, you'll have one of these overviews too.
Tip: Using a listings management platform, you can add your location information to multiple directories at a time. Not only is this a huge time saver, but it also ensures that every directory will be displaying the same data, which is important for both your search engine ranking and your customers!
2. Add Special Holiday Hours

.
During the holidays and other peak shopping occasions, many businesses extend or modify their hours to accommodate the increased demand. The same is true for locations that are closed on certain holidays.
Don't leave customers guessing (or worse, locked out of your shop because they had no idea you were closed). Make sure to update your listings with your modified holiday hours if necessary – and if you're not changing anything, be sure to confirm your hours will be staying the same. 

People love to window shop. And since your online listings are equivalent to your virtual storefront – or window – you'll need to make them visually compelling. And when it comes to nudging potential customers in the right direction,
Whether you're in food service or the fancy soap business, investing even a little time and money into high-quality photos is the best way to show the world what you've got. Give them a snapshot of your storefront, your inventory, your decor: anything that expresses your personality or brand.
The most important thing is that the images you post are nice and eye-catching. Anything less, and you might turn people away. This can be especially challenging for multi-location businesses. Get in touch with us to learn about how we can help with our new solution, GMB Professional Photos.
4. Set up local inventory.
When time is of the essence, shoppers want to be sure that they're going to find what they're looking for when they arrive in-store. Local inventory is an excellent addition to your business page that lets customers explore available products on a location-by-location basis.
This feature also encourages product discovery as shoppers browse your virtual aisles, and helps you capture even more search interest.
While getting this step up and running is a bit more elaborate than the others, we're here to help. RenderSEO is one of four Google partners with instant verification, so you can get your inventory online and verified in a flash!
5. Inspire with Google Posts

.
There's always something fun happening in-store during the holidays. You might be running a limited-time promo or hosting a themed event. Maybe you just need to communicate an important update, or get shoppers excited about an in-demand product you just received.
No matter the message, you can say it loud and proud with Google Posts. As part of your Google Business Profile business panel, these photo-enhanced tiles are displayed in a carousel format beneath your essential info.
Aside from piquing shoppers' interests and keeping them informed, Posts present a great opportunity to capture more keyword interest.
For example, you might include the following sentence in the caption for a post about a themed chocolate assortment: "Our holiday chocolate gift baskets are available as of December 1!" That way, when shoppers search for holiday chocolate gift baskets near them, yours is way more likely to pop up.
The popularity of "near me" searches has been on fire recently. This is significant because these queries convert, with over 50% leading to an in-store visit.
6. Engage with customer reviews

.
Managing and responding to online reviews is a cornerstone of doing business in the digital age. No matter what type of feedback is rolling in, each comment deserves a response. Here's why.
While this may sound like a tall order, using a reputation management solution is the easiest way to knock out replies fast. No matter how many directories you use, this type of platform will aggregate comments on a single dashboard, so you can avoid hopping from account to account.
7. Keep your Q&A up-to-date

.
With holiday hours, inventory, and health measures in constant flux, customers (rightfully) have questions. And while keeping your listings up-to-date is a great first line of defence, you can't always anticipate every possible need. 
If a shopper can't find what they're looking for on your business profile, they will often post a question to the page's Q&A section. Does this store sell Xboxes? Can I bring my dog inside? Do they take cash?
Take a load off your plate this holiday season.
Every item discussed in this piece can be completed using a purpose-built local marketing solution. 
If you're just starting to build out your local search presence, RenderSEO's proprietary technology platform can automatically push your business info to any number of directories. The same goes for any images, hours, or details you need to update.
But really, that's just the tip of the iceberg! Get in touch to learn more about how we can help take work off your plate during the most wonderful time of the year.
Be our next success story

!
Reach out today for a demo.