Get Found on Google Maps

:

How to Optimize Your Listings to Drive More Traffic

.
With Google Maps being the preferred navigation app for 67% of users, having a strong Google Maps presence is critical to your discoverability and success online. In this article, we'll cover how to use Google Maps to drive more traffic to your site, how to claim your business on Maps, and how to rank higher in the search results.
Creating and Claiming a Google Maps Listing

:
The first step to driving more traffic and getting discovered on Google Maps is to make sure your business exists and is claimed on Maps. To check if a listing exists, simply type the address of your business into the Google Maps search bar and see what comes up. If it does show up, the listing already exists and you can go straight to claiming it. If there are no results, you should see the option to "Add a missing place."
How to add a missing place: 
→ Once you click on "Add a missing place" you'll then have the opportunity to provide the name, category, and location of the missing business.
Now that it exists, it's time to claim it as your business.
Keep in mind that creating and claiming a business are two very different things. Anybody can create what they believe to be a missing business, but in order to claim it, you'll need to have already created a Google Business Profile.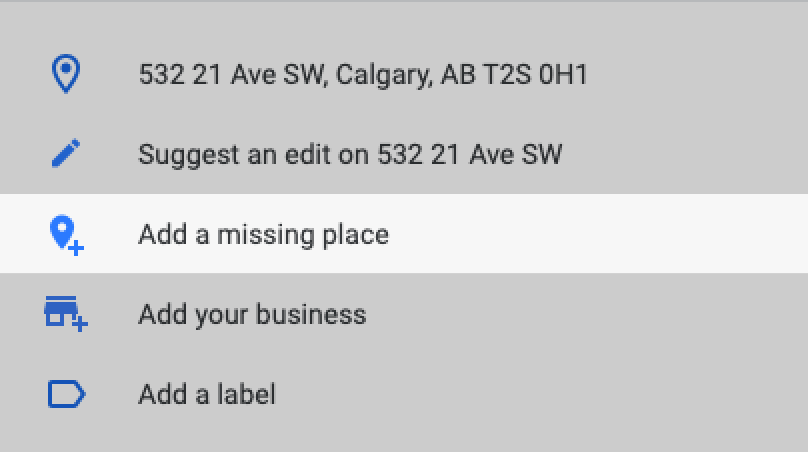 How to claim a listing on Google Maps: 
→ If you're signed into your Google Business Profile, claiming an existing listing should be as simple as selecting "Claim this business" or "Own this business?" from within the unclaimed listing and following the prompts.
Once claimed, it will link your Google Maps listing to your Google Business Profile, and you'll be able to add much more detail and information to the Google Maps listing, which will in turn increase its ranking. The more information the better!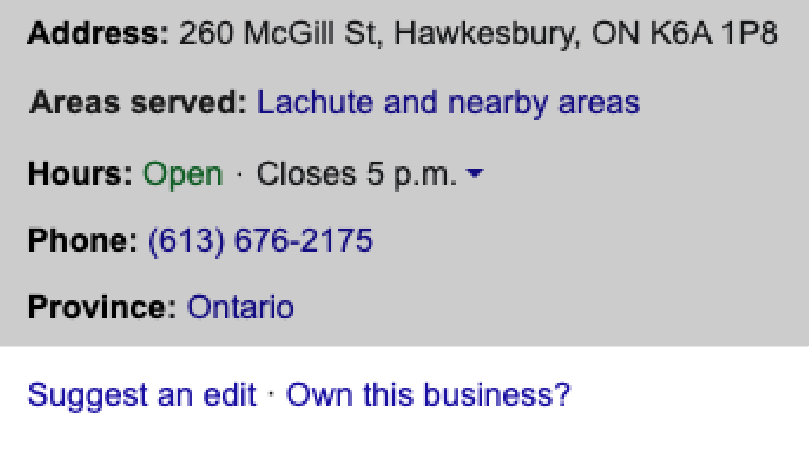 What to Add to Your Google Maps Listing

:
Now that you've linked your Google Maps listing and Google Business Profile, everything is in place to start populating your Maps listing with relevant and helpful information.
→ Start by opening your Google Business Profile and navigating to the "Info" section. This is where critical pieces of information like your name, address, phone number, and location can all be populated, if you haven't already done so. 

→Tips and Things to Keep In Mind: 
✓ USE A LOCAL PHONE NUMBER. Toll-free numbers are often associated with spam, Google prefers local phone numbers with the same area code as your location
✓ USE KEYWORDS IN YOUR BUSINESS DESCRIPTION. Along with allowing you to communicate to customers what to expect when they visit your business, this description field also allows you to use keywords that will better help Google to categorize your business and present it in relevant search results
✓ INCLUDE COMPELLING, HIGH-QUALITY PICTURES. Users want to see what your business and products look like before they make either the virtual or physical trip out to see you. Adding pictures also signals to Google that you're active and posting high-quality content, further boosting your rankings and helping you appear to more people | Learn about our Local Photoshoot Solutions →

✓ POST TO YOUR GOOGLE MAPS LISTING. In the same vein as posting pictures, posting regularly to your listing helps communicate to both Google and potential customers that you're active and invested! These posts can also appear in Google searches, allowing for even more eyes to view what you're posting
✓ INTEGRATE YOUR WEBSITE WITH GOOGLE MAPS. Did you know you can embed a link to your Google Maps listing directly into your website? To generate a link simply go to your Maps listing, select share, and click on the "Embed a map" option!
How to Resolve Duplicate Listings on Google

:
One thing that will really hurt your discoverability is if there are multiple listings for the same business, especially if these listings have conflicting information. Here's how to go about resolving these conflicts:
Option 1: 
The most direct solution is to contact Google through either Twitter (@GoogleMyBiz) or phone (1-844-491-9665) and ask them to merge both businesses.
Option 2: 
If you are the owner of both businesses but only one of them is verified; you can select the unverified listing and click "Suggest an edit." From here you will have the option to categorize the listing as "Permanently closed" and you can select the reason as "Private."
Ready to see how we can help you

?
Learn more and stay in the loop about everything local search: