How Local Businesses Can Use Voice Search As A Lever For Massive Growth
.
Consumers have always used their voices to discover what's new and exciting in the neighborhood. From quick exchanges with your local barista to swapping life updates with your nearest and dearest, word of mouth is the original fire starter for putting businesses on the map.
But voice search, which has been skyrocketing in popularity over the last few years, approaches things from a totally new angle: it's harnessing the power of consumer voices (literally!) in a way that's never been seen before. And with more and more people tapping into smartphones' voice assistants, it's clear that voice search is here to stay.
So, what does all of this mean for local businesses? How can they leverage this massive opportunity to help build their brand and ramp up their discoverability? And how did this whole voice search thing come to be, anyway? Understandably, you've got questions – and we've got the answers.
INCREASE IN VOICE ASSISTANTS USERSHIP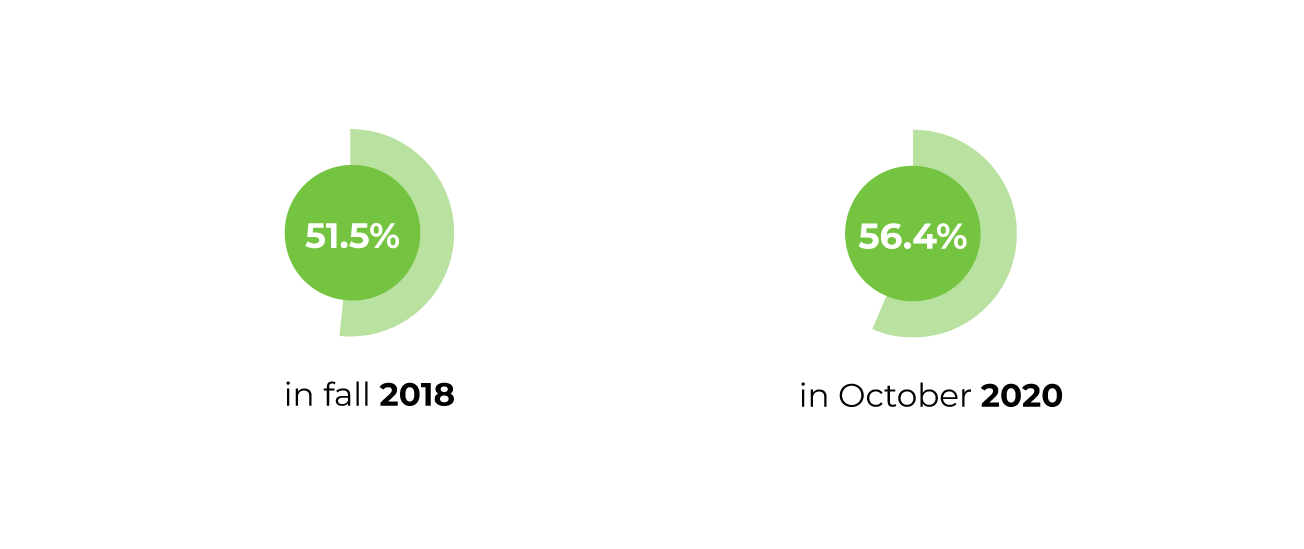 A Brief History Of Voice Search Technology

.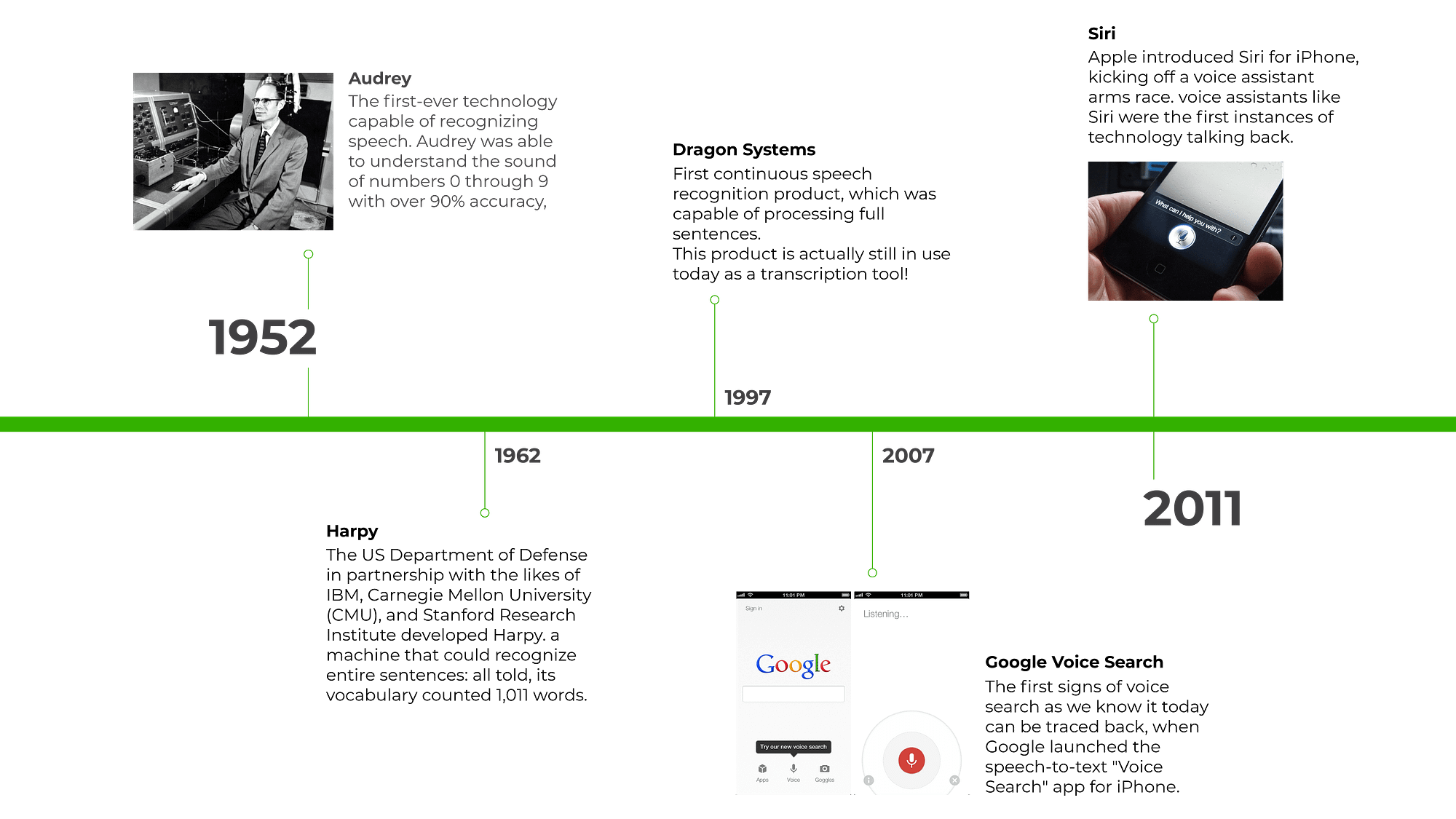 Instead of a one-way street, voice assistants are now talking back. And while they used to exclusively live inside of our phones, these smart (and sometimes sassy) assistants can now be accessed across an increasingly wide range of products: you can chat with Siri using your Airpods, ask Alexa a question via your Echo Dot speaker, and even use Google Assistant to control your smart thermostat.
Understanding User Intent: Voice Search Technology's "Big Bang"

.
One of the key factors behind the explosive rise of voice search is advancements in how artificial intelligence (AI) understands user intent – AKA what users are actually looking for. Thanks to a very complex underpinning of machine learning algorithms, Google has gotten incredibly good at intuiting exactly what you want to see.
This can be illustrated with a simple exercise. 
Go ahead and input "french fries" on Google using your voice assistant. Within a few milliseconds, you'll be shown a short definition of the term accompanied by an image.
Google will also provide links to french fry recipes, nearby locations that serve fries, and much much more just below.
Now, if you clear that query, start your next voice search by saying "how to." Google will automatically suggest searches like "how to make french fries," "how to reheat french fries," and so on. That's because Google is using contextual information – i.e. the search you just conducted – to predict the intent of your next query.
Given the immense quantity of contextual data that search engines are collecting from us at all times, Google and friends are able to deliver incredibly specific and relevant information when people search for local businesses and services.
4 Ways To Maximize Your Discoverability And Reach

.
If you want to convert online searches into potential sales and revenue, you'll need to make it easy for people to find you. And it all starts with polishing – or creating – your local SEO strategy.
consumers who look up a local business on their smartphone end up visiting that location within one day.
consumers on desktop or tablet visit locations they have looked up online. 
1. Cater To Voice Search Syntax With Additional Content

.
Proving to search engines that your business is "trustworthy" requires more than just filling out a Google Business Profile and optimizing your website. If you really want to maximize your keyword coverage and capture as much search interest as possible, you'll need to create additional content based on a wide range of keywords.
When it comes to voice search, phrasing is key; people use significantly different syntax and phrasing for voice searches compared to typing on their browser. On a computer, users will typically use as few words as possible, whereas voice search is much more conversational and therefore lends to longer sentences.
There are two ways to tailor your content to these question-centric keywords. While both options are great for SEO, what you get out of this exercise will be directly linked to how much effort you put in!
Lower impact: Create an FAQ page
A FAQ page can act as a catch-all for the most common questions your customers are asking online. If you're a hair salon, you might include questions like "How long does hair dye last?" or "What are highlights?" That way, when people look these questions up on Google and beyond, your site has a higher likelihood of showing up in the results.
Higher impact: Implement a content marketing strategy
Instead of fitting everything into a single page, publishing blog content gives you countless opportunities to tap into more targeted keywords and key phrases (as opposed to the bare necessities). The more articles you publish, the more ground you can cover, and the more likely you are to pull visitors to your website by answering their burning questions. Maintaining an active presence online also shows search engines that your business is legitimate – and therefore worth promoting!
2. Claim Your Google Business Profile

.
Local search magic can't happen until you complete this step. If you have ever looked up a business and noticed an "info card" pop up on the right-hand side of your search results page, you're already familiar with Google Business Profiles.
Google Business Profiles provide a quick snapshot of the most important business information for consumers: think website, physical location, store hours, contact information, reviews, and images. Google will also prompt businesses to select categories that describe their location, like "women's clothing store" or "Greek restaurant." These categories go a long way in improving rankings when users perform "near me" searches.
If you search for "hardware store near me" while at home, Google will display the closest shops to your house. If you conduct that same search while at the office, you'll get a totally different set of local results. Since consumers are often looking for a certain type of business with a "near me" search, adding categories to your Google Business Profile is a must. 
Once you've claimed your listing (we can help with that!), fill in as much information as you possibly can. Google favors locations with complete and accurate data, so you'll not only be boosting your SEO ranking, but also making sure that customers find all the info they need once they land on your location. If not, you risk losing them to a competitor.
3. Make sure your information is consistent across directories

.
Google is just one of hundreds of directories that exist online. From major search engines to niche industry review sites, businesses should be listed on as many directories as possible in order to meet consumers where they're at.
Careful, though – this step must be approached with caution. If a search engine detects even a slight variation between the business information you've provided from one directory to another (using different phone numbers, having a typo in one of your addresses, etc.), your SEO will suffer.
The easiest way to avoid error, is to automate! A dedicated listings management software and team can not only push a single batch of data to all of your directories, but can also update all of your location info automatically whenever the source data is modified.
That's just a sneak preview of what a listings management platform can do to improve your locations' rankings – for a full rundown, click here.
4. Optimize Your Website For Mobile

.
Many people turn to voice search when they're multitasking on the move.  If you want to convert these users into customers, you'll need to make sure your website will load properly on smartphones and tablets – a box that's easily checked by building a responsive website.
Responsive web design is an approach that makes sure your site will load properly on various screen sizes, since the dimensions of a laptop screen are nothing like a smartphone. Many WordPress templates take this into consideration, and any good web designer will employ a similar method when building your site. Just make sure to be diligent about responsiveness and make sure that any theme or developer you choose is on the same page!
Step Into The Voice Search Space With Confidence

.
No matter where you're at in your local search journey, this is a road best travelled with a teammate. RenderSEO can place your business in front of qualified audiences with our solutions like listings management, and competitor keyword ranking, providing the insights you need to make strategic marketing decisions.
Listing with us means adding your locations to all the right directories and reaching your customers exactly where they're searching for you: on the web, on mobile, and now, using their voice.
Be our next success story!
Reach out today for a free demo.