Retail Client
—A Case Study
.
INCREASING IN-STORE FOOT TRAFFIC WITH SWIS
A retail company specialized in footwear 
RenderSEO Solutions Used

.
See What's In Store (SWIS)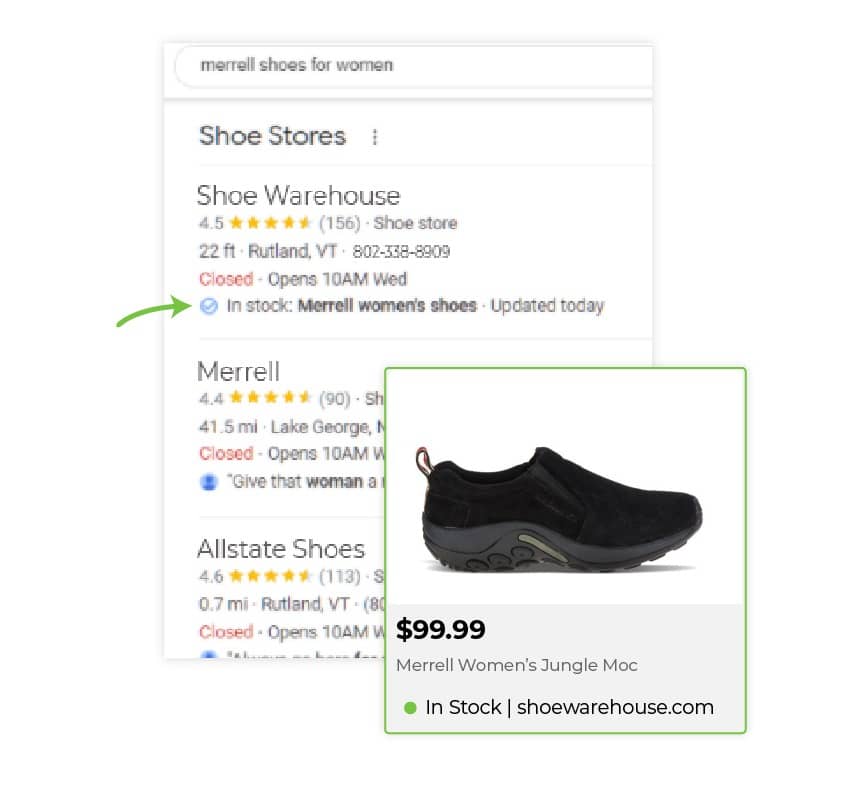 ✘ A century old footwear company was not getting found online and looking to increase online and in-store traffic.
✓ Set up Google's See What's In Store, aka SWIS which adds live inventory to their local Google Business Profile. SWIS is not just a powerful conversion tool for customers who are one step away from purchasing, it also has a remarkable impact on helping businesses jump up in local search results.
BONUS The keyword search also showcases that the searched for items are 'in stock' and when the stock inventory was updated, creating more drive-to-store opportunities.
in profile interactions (calls, directions, etc) vs YoY*
more variations of keyword queries MoM*
in business profile impressions MoM
Example of keywords the listing newly appeared for

.
KEYWORDS SEARCHES FOR MERRELL SHOES
Pre-SWIS: 
Merrell shoes
merrell boots for men: tactical boots
merrell hiking boots women's
price of merrell jungle moc at sensible shoes rutland
1 month post SWIS activation:
Merrell shoes
merrell clogs
merrell jungle moc 
merrell jungle moc mens
merrell moab 
merrell moab speed
merrell sandals
merrell sandals women
merrell shoes for women
*YoY – MoM: Month over Month | YoY: Year over Year
Be our next success story

!
Reach out today for a free demo.