How to Answer Bad Reviews

.
(With 5 sample answers)
Managing your reviews, both positive and negative ones, is a big part of maintaining your online reputation. With 81% of consumers using Google to evaluate local businesses and a whopping 98% of them at least 'occasionally' reading online reviews before buying from local businesses in 2021, it matters more than ever. Not only are they reading reviews, but customers are being impacted by them.
of consumers are more likely to be motivated by an online review than by a discount offer!
Negative reviews are always going to be part of doing business. It's easy to become a little disappointed or upset when faced with criticism, and sometimes we respond in a way that's less than ideal. Having a solid, well-put-together game plan will make dealing with these critiques a whole lot easier.
Why Respond to Negative Reviews

:
You may wonder if it's even worth responding to reviews in the first place. Engaging with all negative reviews and as many positive reviews as possible gives you the best path to success. This gives you the opportunity to right any wrongs that may have occurred resulting in a negative experience, and also signals to readers (and Google!) that you're engaged with your customers and willing to go the extra mile to make things right.
The majority (75%) of businesses don't respond to reviews at all! By making this choice, they could be leaving valuable business on the table, as companies who respond to at least 25% of their reviews make 35% more in earnings than unresponsive businesses.
Online reviews are the 5th most significant ranking parameter
It's also worth remembering that reviews can impact your SEO rankings as well. Both the quantity and quality of reviews matter. According to a study, the fifth most significant parameter that determines the rank of a business is online reviews. As the role of user-generated content grows larger, it's best practice to stay on top of your reviews.
So, it's established: responding to reviews is good for business. But what's the best way to actually respond?
How to Respond to Bad Reviews (With Examples

)

:
1 | Make every response personal

.
The gold standard when answering reviews is to personalize each of your responses. When possible try to use their name, and address the specific issue in as much detail as you can. When it's not possible to personalize every reply, it is vital to have a set of 5-10 templated responses that you can use. This allows for diversity in your responses and is an easy way to ensure you're constantly using the same tone and verbiage across all locations.
Example review:
"Only come here if you have nothing better to do! The lines are insane and there's only one person at the checkout. Ridiculous!"
✓ Hi John, I'm sorry to hear your experience was less than outstanding. Regarding the long wait time you mentioned, we are currently looking to hire more staff to solve this issue. We pride ourselves on excellent customer satisfaction and are doing what we can to address this problem as soon as possible. We'd love to see you again soon so you can see the changes we're implementing!

✘ We're sorry you had a bad experience. Please come again soon!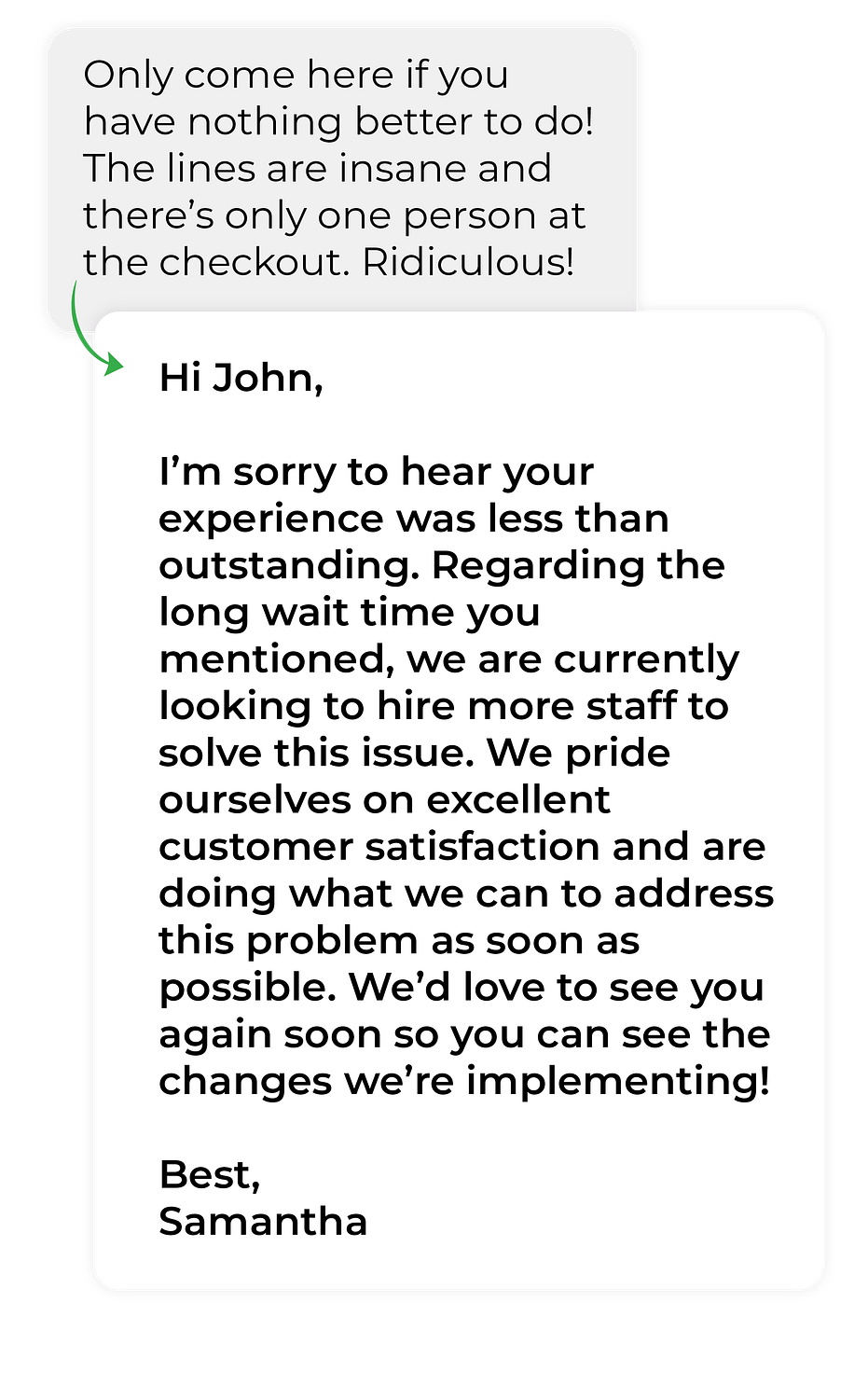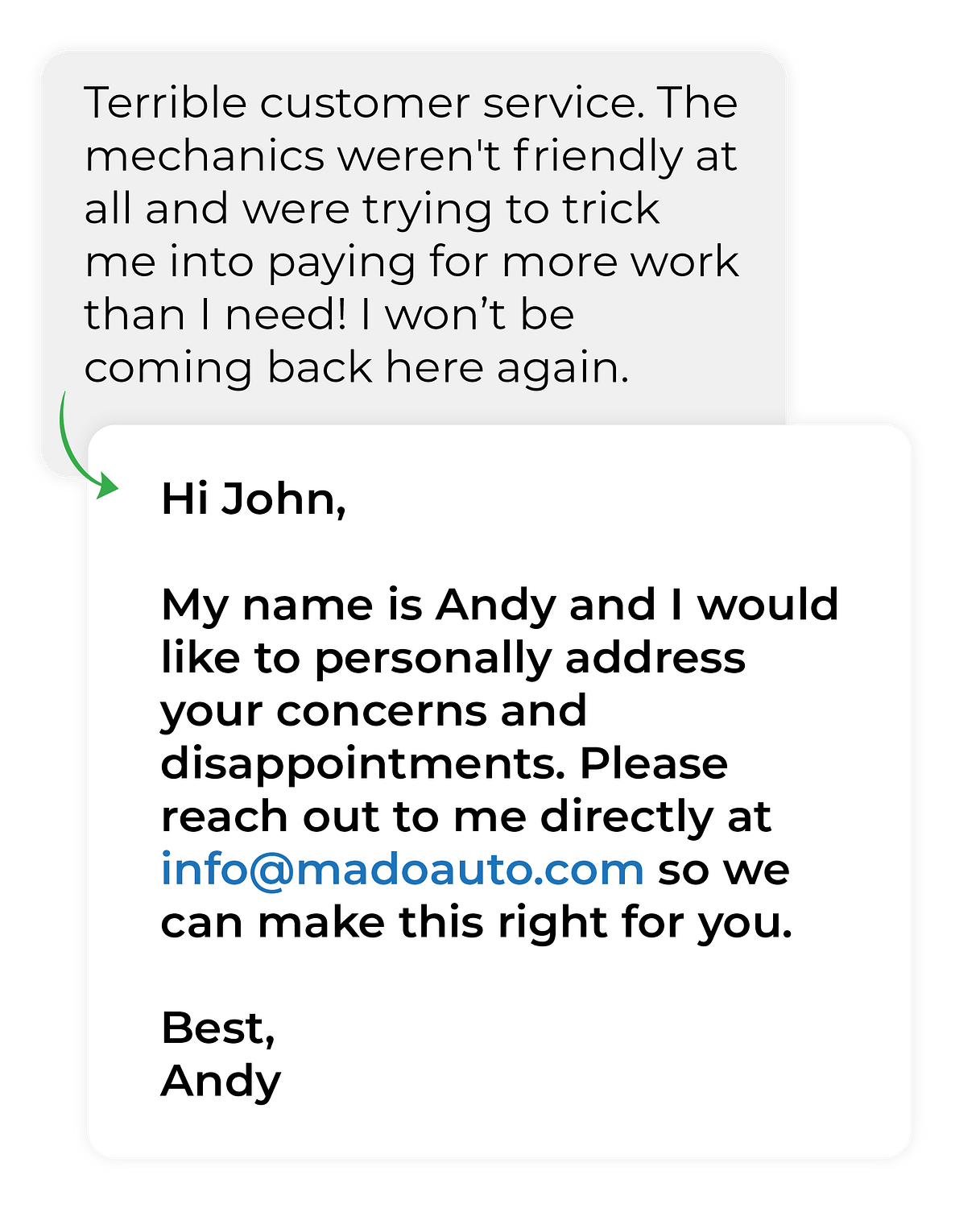 2 | Move the review to a less public venue

.
A public review forum might not be the best place to address each and every grievance. Try and contact a reviewer directly to better facilitate a resolution.
Example review:
"Terrible customer service. The mechanics weren't friendly at all and we're trying to trick me into paying for more work than I need! I won't be coming back here again."
✓ Hi John, My name is Andy and I would like to personally address your concerns and disappointments. Please reach out to me directly at info@madoauto.com so we can make this right for you. 

✘ Hi John, I remember you coming in. It was for the transmission problem in the old Subaru, right? Can you reply with your license plate number and we'll see if we can pull up your records to make this right.
3 | Provide an explanation when possible

.
Resist the impulse to try and defend against every single accusation, but sometimes mistakes happen and there's a reasonable explanation for what happened.
Example review:
"Worst bank ever! Just doing some simple paperwork ended up taking all day as the required personnel didn't bother showing up to work. Completely unprofessional."
✓ Hi John, I'm sorry to hear your paperwork took longer than expected. On that specific day, I recall us being short-staffed. Feel free to contact me at 819-000-3876 to discuss your experience more and please don't hesitate to visit again, I know we can do better. 
✘ Hi John, our staff is allowed to take days off. Sometimes that means clients need to wait longer but we did get to serving you and that's what counts. Hopefully you come again when some of our staff isn't on vacation so you're served quicker.
4 | Reply as quickly as possible

.
No one likes to be kept waiting, especially when they've just had a bad experience. Try to respond ASAP when a negative review pops up and address whatever issues you can. According to studies, over half (53%) of consumers want a response to a negative review within a week of posting, and a full one in three (33%) customers expect a response within three days.
Example review:
"The food was okay. My pasta came cold and the drinks took so long that I finished by meal by the time they came. Our server Paul seemed to be new because he didn't even know his own menu. Sadly, I won't be coming back." 
✓ Hi John, I've just seen your review from earlier today and wanted to assure you that this is not the experience we want any of our guests to have! I apologize for what happened and would like to invite you to please contact me at info@bellamore.com so we can make it right and hopefully have you give us another try. 

✘ Hi! Paul doesn't working here as of 3 weeks ago, so we'd like to invite you to come back to show you a better experience. Hoping to see you soon!
5 | Keep your cool

.
Negative reviews can be upsetting, but the last thing you want to do is make things worse by replying in haste. Sometimes the best thing you can do is walk away for a moment and collect your thoughts.
Example review:
"The ice cream was melting as soon as I got it and the flavors weren't anything special. Customer service was fine, but I don't understand how a place called "The Ice Cream Factory" serves grocery store flavoured options!"
✓ Hi John, I'm so sorry to hear you've had a negative experience. As a business owner, I strive to deliver the best product I possibly can and want all our customers to enjoy their visit and our ice creams. Please reach out to me at 819-723-4455 so we can discuss in more detail together. 
✘ I remember when you came in. I just think it's funny how after sampling all of the 10 flavors of ice cream you still ended up complaining about not liking the one you chose. I say good riddance to you!
Keep in mind that some reviews are going to be less than constructive or even outright spam/abuse. If you believe a review violates Google, Yelp, or Facebooks's content policies, you can send a request to have that comment removed.
Perk: Through our review management solution, RenderSEO offers the service of doing this on your behalf.
Answering Reviews In The Medical Field

:
If you're in the medical field you'll have to take special precautions when responding to reviews. Maintaining HIPAA requirements and protecting PHI (​​protected health information) has to be your first priority. As general rules of thumb:
✓ Keep your responses general
✓ Focus on procedure/policy rather than specifics
✓ Move the conversation offline as quickly as possible
Using a review management tool is vital

.
As a wrap, managing your online reputation is vital for customer satisfaction, attracting new customers (new customers = more business), and improving engagement and ranking on Google. Using a review management tool, such as RenderSEO's platform, simplifies and streamlines this process; especially when you have multiple locations!