Does Siri know about your business
?
How to leverage Apple Maps to get found in Voice Search

.
Voice search isn't going anywhere

.
With 41% of US adults using voice search on a daily basis, voice search rising to become the second most popular channel for mobile searches, and with voice assistants being able to answer 93.7% of questions presented to them; Siri and other voice assistants represent a significant amount of traffic that could be coming your way.
Mobile users are especially significant when it comes to local search as they're frequently on the move and looking for the closest search result. In fact, over half (58% to be exact) of people who use voice search do so to search for local businesses.
of US adults use
voice search daily
of people search for local businesses via voice search
The Rise of Voice Search

:
Natural language processing engines are getting more accurate. A recent study threw a bunch of questions to different voice assistants and found that only 6.3% of them weren't answerable – compare that to voice assistants not being able to answer 35% of questions just a year ago.
The demographics also reflect an increase in use. 25 to 49-year-olds use voice search more often than any other age group and we can expect that trend to extend and continue as younger generations get their hands on smartphones.
Siri specifically leverages Apple's Maps to provide users with local search results near them, reviews, and driving directions to business locations. Having a fully fleshed-out Apple Maps profile is critical to coming up in voice search results. The more information you fill in, the more data Siri can pull and provide to potential customers!
What features to explore within Apple Maps

:
Categories

.
You can choose from a list of categories to describe your business. We recommend choosing up to three and trying to be as specific as possible. (e.g.; restaurant, gym, retail store).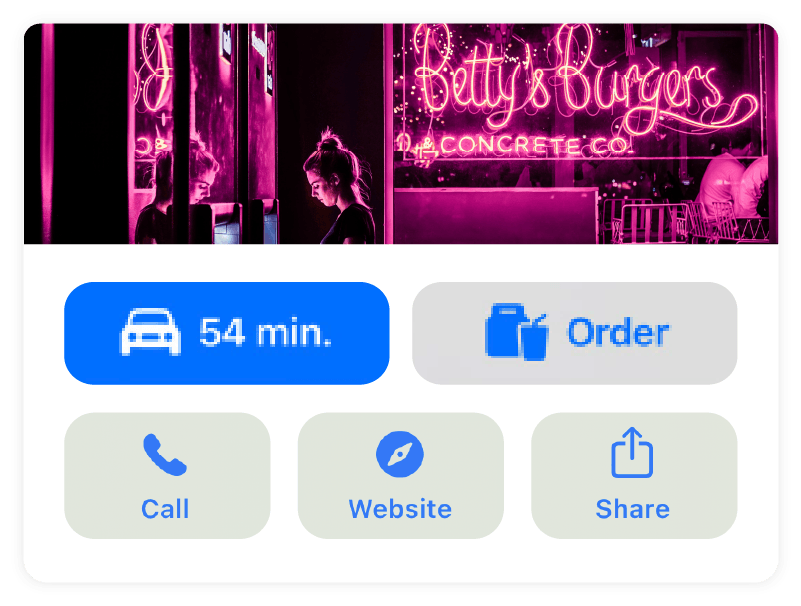 CTA Buttons

.
Call to Action buttons let users complete common tasks with a tap of their fingers. Whether that be making a call, placing a reservation, or viewing a product, so you can make it easier than ever to facilitate these interactions.
Apple's Business Chat

.
Apple's Business Chat allows customers to directly message you using an iPhone, iPad, Mac, or Apple Watch.
Attributes

.
Good to Know / Attributes allow you to add useful details about your business like whether it's wheelchair accessible, has take-out options, or does delivery.
When you work with a partner that has a direct relationship with Apple, like RenderSEO, you gain access to push data directly to their servers to get you up and running in no time.
Get found with voice assistants

.
There's no reason to think the growth of voice assistants will slow down. As language processing gets better and devices like smart speakers find their way into more and more homes, the prominence of voice search is only going to rise.
 It's important to remember that while a major player, Siri isn't the only game in town when it comes to voice assistants. Google Assistant, Alexa, and Cortana all make up parts of this ever-evolving ecosystem as well. With the right partner, it's easy to have your business listed on the right directories to get you found— no matter the search method.
The world of voice assistants is an exciting one

.
Who doesn't want to live in a world where the answers to all of your questions are just a spoken sentence away? Stay in the loop with this ever-changing world by visiting our blog or contacting us directly to see how we can help you.