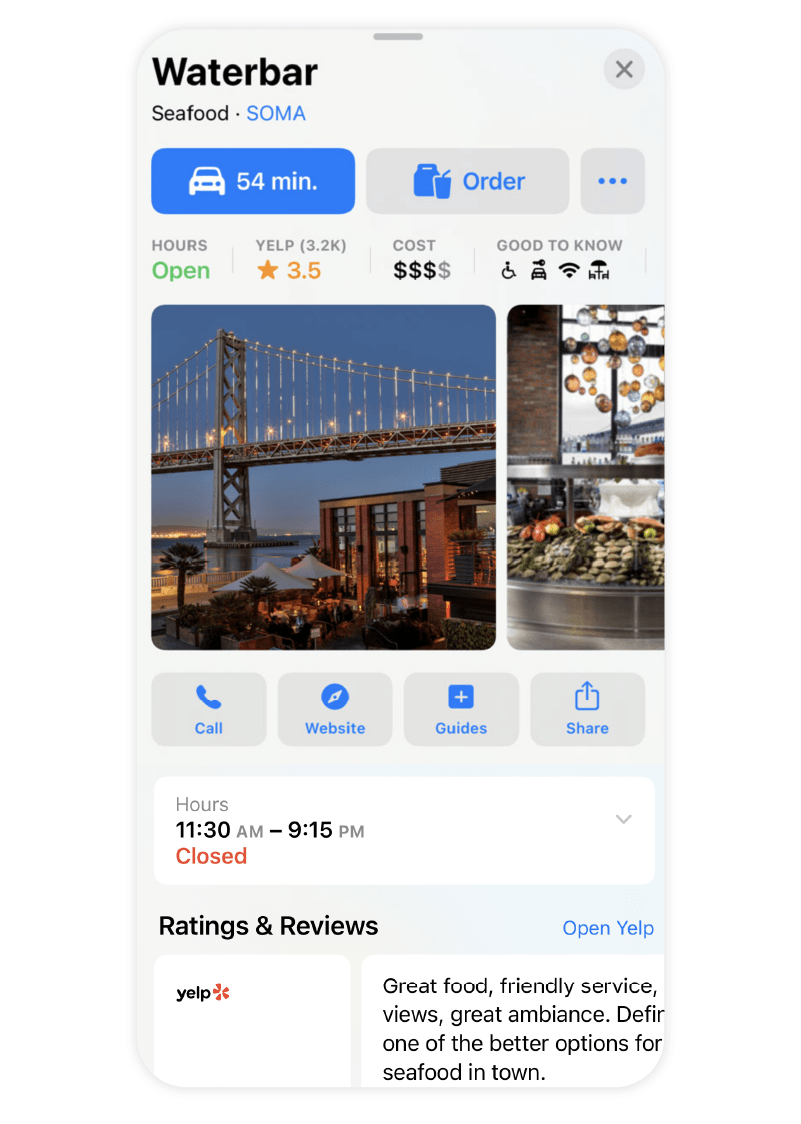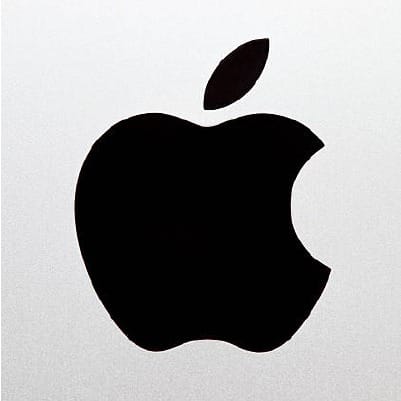 If you want to get discovered by iOS users, Apple is the key to their hearts and minds. With the power of Apple Maps and Siri combined, brands can promote their locations to customers who are anywhere at any time: at home, in the car, walking around town, or even conducting a hands-free voice search.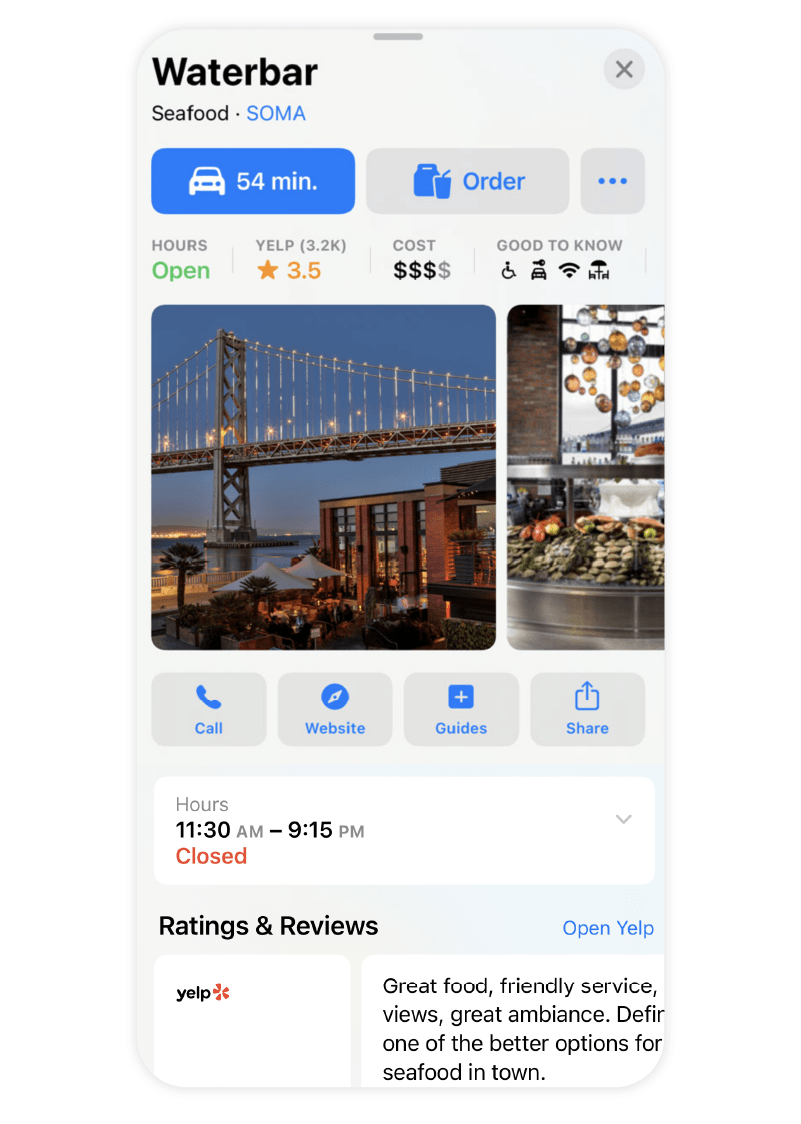 What is Apple Maps

?
Apple Maps is the second-largest mapping platform in the world: it comes pre-installed on every iOS product and currently lives on 1.5 billion active devices worldwide. Claim your "Places" on this directory to increase visibility and awareness among an ever-growing demographic of iPhone and iPad users.
Who should be listed on Apple Maps

?
This native navigation app is a key asset for businesses that want to leverage both traditional search and voice-activated search via Siri. Apple Maps also offers an impressive variety of enhanced features to optimize your listings and get you discovered when it matters most.
Reviews & Photos

.
By syncing Apple Maps with Yelp, you can add these two trust-building features to your listings. Quality photos are a highly convincing visual asset, and reviews do a fantastic job of showing potential customers that your business is legit.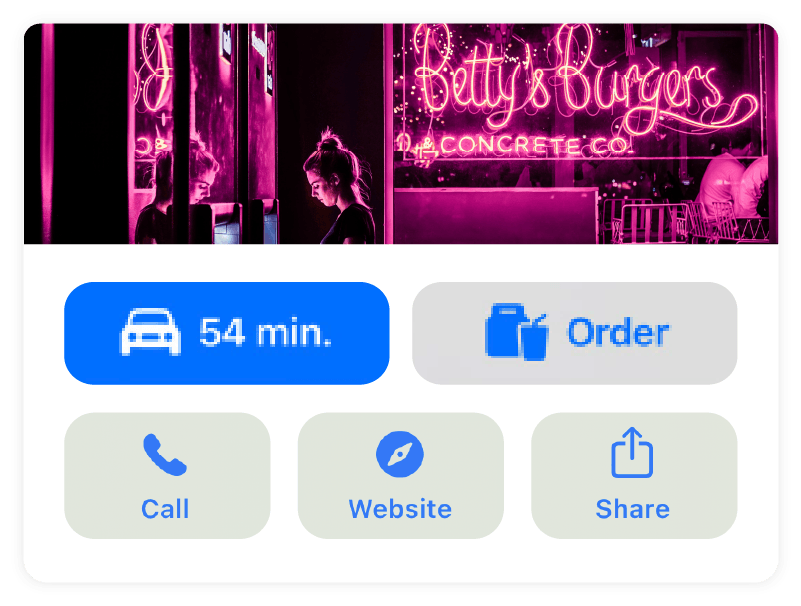 CTA Buttons

.
Add a few call-to-action prompts to your profile so you can nudge customers in the right direction: invite visitors to call your location, message you, share your business profile with others, and more!
Apple Maps Guides

.
Guides give users local recommendations on the best restaurants, entertainment, and so on. If your business is listed on one of these guides, it'll show up on your listing and link to it under the "Featured" section, thus showing off how great you are. 
Messages

.
Apple's Business Chat creates a direct line of communication between you and your customers, allowing them to perform key actions like schedule appointments, pay for products, and request general assistance.
Attributes

.
Dive deeper into your service offering with attributes, such as whether you have a wheelchair-accessible entrance, offer delivery or curbside pickup, accept digital payments, or have kid-friendly options.
Siri

.
Jokes, recipes, directions: consumers ask Siri about absolutely everything. When brands add their business data to Apple's directory, Siri will be able to populate their locations when shoppers are looking for nearby shops and services.
Let us share our VIP status with you

.
Stick with RenderSEO and you can't lose. Thanks to our direct partnership with Apple, we have the ability to push data directly to their servers to get you up and running ASAP. We'll also hook you up with enhanced features to further optimize and deck out your listings.
Ready to chat with an expert about boosting your discoverability

?
Connect with our team to learn more about our tailored services and customizable packages.